When it came to designing this 1264 sq.ft. penthouse apartment in New York City for an on-the-go tenant, the goals were simple: modern and comfortable. The client wanted timeless furniture, stylish lighting, and accents with impact. Decorilla's team took on the challenge and the results were a design that spoke to the client's city sleek and masculine interior design aesthetic while creating an atmosphere of home away from home.
People spend most of their time indoors. Therefore, interior design plays an important role in creating functional, beautiful spaces that also maintain our well-being. Let's take a closer look at some of the design decisions in this project that have our health and the environment in mind.
NATURAL MATERIALS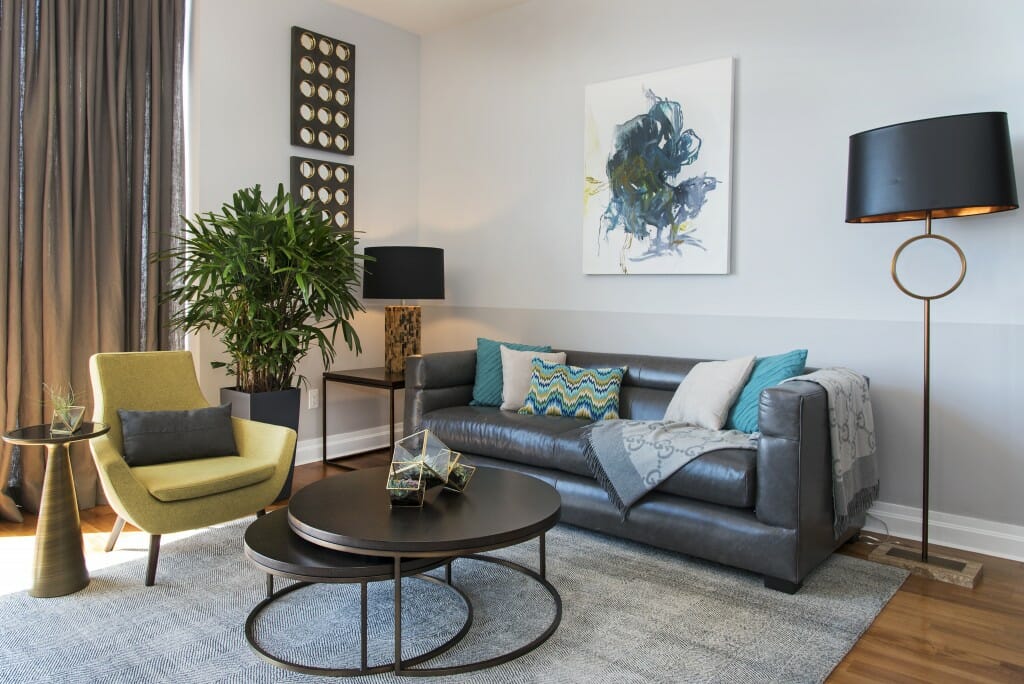 To create sustainable design, it is important for designers to take into consideration local sourcing, efficiency of energy and water, and durability – these decisions ultimately result in the health of our planet. Promoting good air quality in constructed environments is crucial as well.
In this project, to soften the harshness of the concrete jungle outside, Decorilla designers, Christine and Ibrahim opted for natural materials like leather and wood furniture pieces that show off clean lines and attractive textures. The dining room table is a beautiful example, of a solid walnut wood piece that is locally made. As well, the living room rug is wool and silk, is a hand-crafted piece from abc carpet & home that supports artisan pieces over manufactured ones.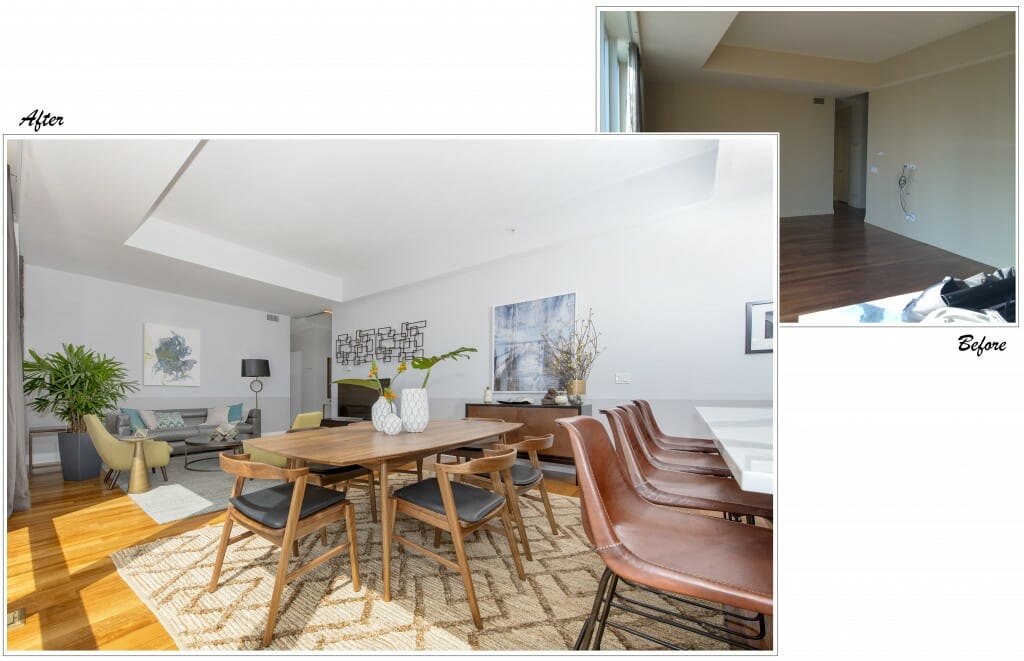 Sourcing pieces from environmentally conscious online brands is one of several ways to create a sustainable interior design. The living room statement piece is a Bennet sofa from eco-friendly Mitchell Gold + Bob Williams who pride themselves in using materials free from fire-retardant chemicals and using upholstery that is primarily made from recycled fibers. Additionally, Soho Concept's sustainably- designed Rebecca wool chairs offer earthy pops of color to the overall design.
ELEMENTS OF BIOPHILIC DESIGN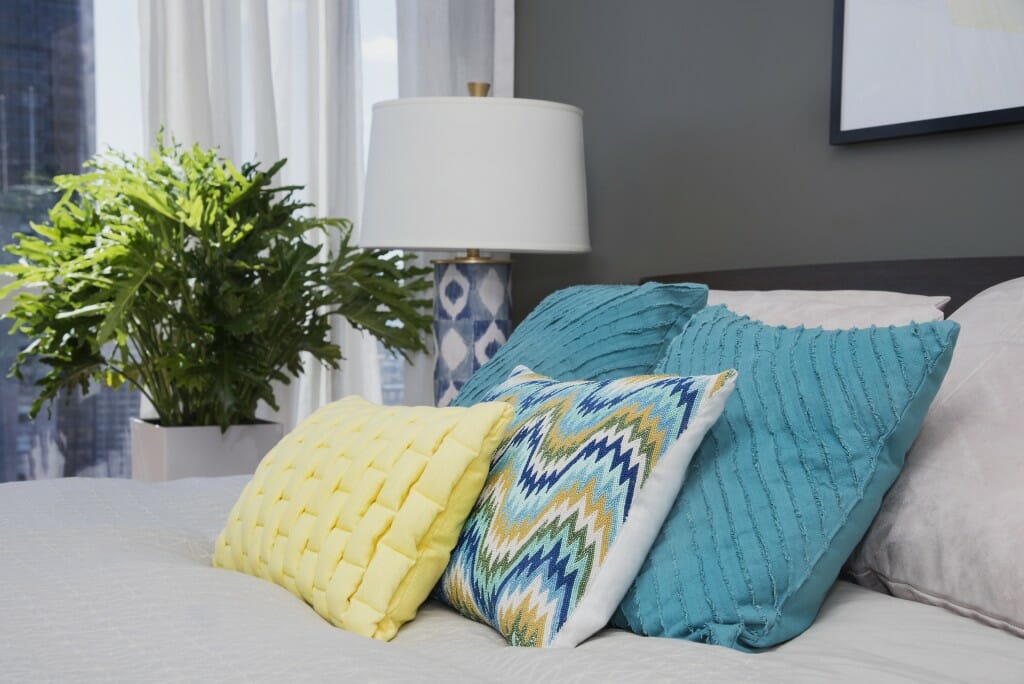 Biophilic design is an innovative concept that suggests enhancing human health and well-being by incorporating nature into the built environments.
To apply the elements of biophilic design in this project, Decorilla teamed up with botanical expert, Mary Ann Rounseville, who curated the perfect selection of plant & flowers for the space, creating a personal escape. Not only do plants work as lovely organic accents in an interior, they also serve as a natural purifier, supplying us with oxygen and controlling humidity levels – so crucial for cities like New York. Some plants require little water,  are low maintenance, being suitable for residents with busy lifestyles. For more on Mary Ann's use of plants in modern spaces, check out the Decorilla + Design Milk feature here.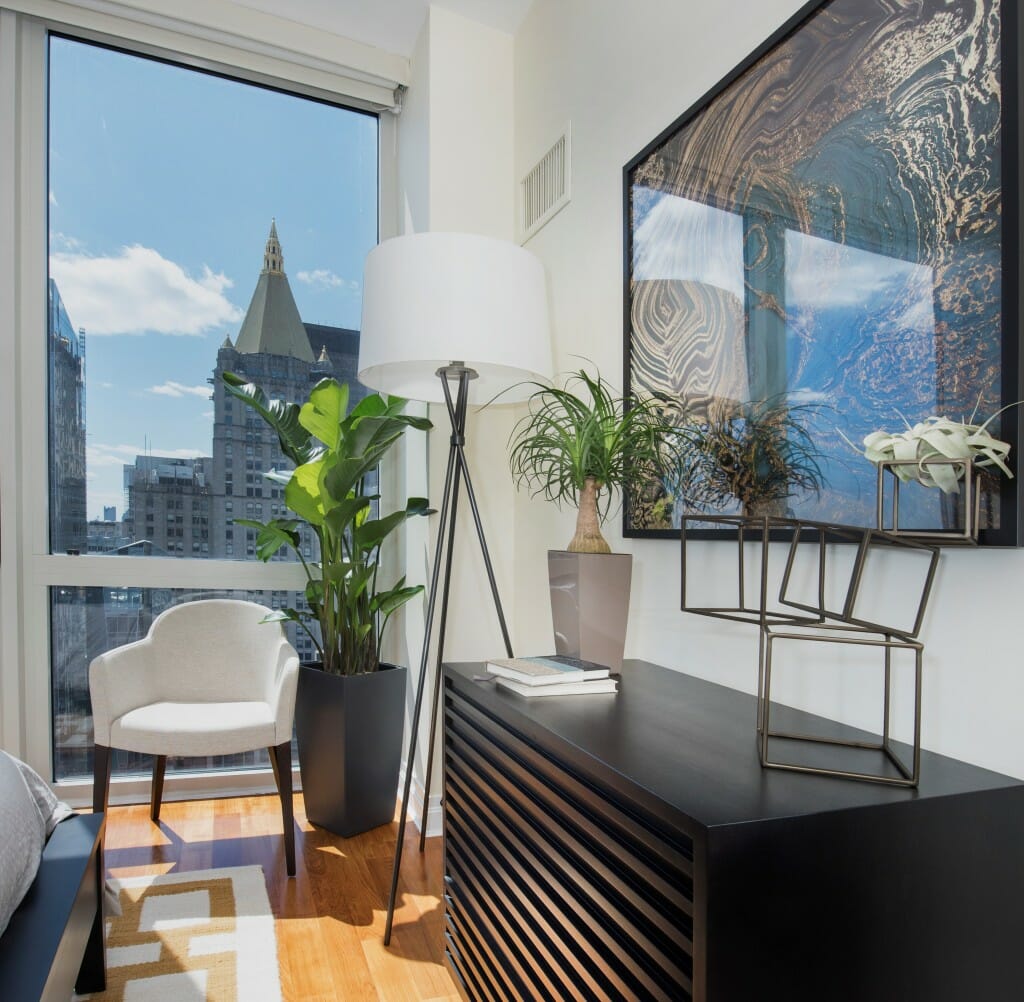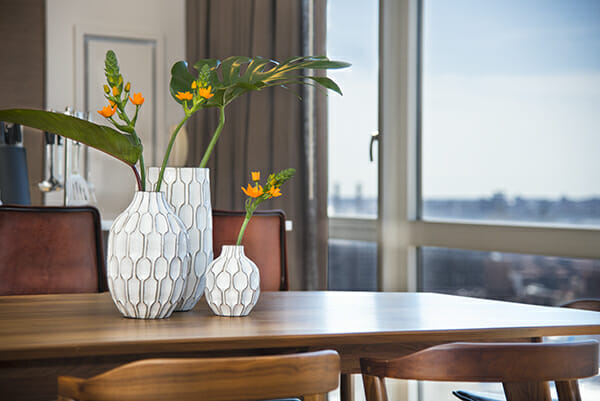 Being mindful of health and the environment in design is quickly becoming second nature, so to speak. Opting for eco-friendly products and being aware of how and where they are made are key practices in creating interiors that agree with our planet. Style does not have to be compromised either! With the abundance of responsibly-sourced and sustainably-manufactured furnishings nowadays, like Bambeco and Viesso, high-end sustainable design no longer means sacrificing aesthetics.
Click through to see the rest of the photos from this stunning transformation!
Written by Christine Martin
Photos by Jay Litton
This post originally appeared on
Decorilla
 – a new way to get the designer rooms you've always wanted… but never thought you could afford. By combining traditional in-home interior design and technology, they have created a platform connecting customers with professional vetted designers, streamlining the design process, and making beautiful interior design affordable and risk-free.
Visit Decorilla to learn more.