Micro-Hydro Systems
Smaller Hydropower Systems less than 100kW
Canyon Hydro designs and manufactures small hydro systems ranging from 4kW to 25MW.  Each system is designed and built at our manufacturing facilites in the USA.
For our customers with residential or small community projects, Canyon Hydro provides a broad selection of micro-hydro systems up to about 100kW, each delivering high efficiency, quality and reliability at a reasonable cost.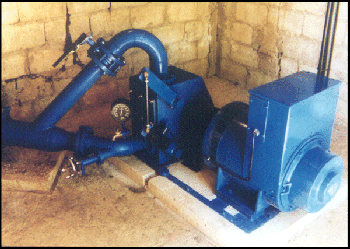 This dual-jet system, located in Costa Rica, drives a 14kW generator, and uses a needle nozzle to allow adjustment for changing flow conditions without shutting the system down.
You can purchase a complete hydro system from Canyon Hydro, or individual components.  We will be happy to work with you to determine the best approach.  A typical hydro system from Canyon includes the following components:
Water turbine and housing
Drive system
Generator
Electronic Governor
Assembly Frame
In addition, many of our systems are equipped with one or more of the following options:
Stainless steel runner
Variable needle nozzle
Frequency protection jet deflector
Canyon Standard Turbines
The heart of a Canyon Hydro system is the water turbine.  Efficiency counts most here, and we take great care to ensure maximum power transfer.   Canyon Pelton runners are all-metal, cast as a single unit.  Bucket tip, splitter and exit angles maximize the transfer of hydraulic energy to the turbine shaft.  Each bucket is hand-polished, with special attention directed to the rear of the bucket to minimize internal aerodynamic drag.
Similar procedures are employed for Canyon Crossflow and Francis turbines, using the highest quality materials and advanced manufacturing techniques.
Most importantly, Canyon turbines are backed by a group of experienced professionals who know hydro systems, and are dedicated to the success of your project.
Canyon Will Design Your Turbine System
We strongly recommend that you let Canyon Hydro design the proper turbine system for your site, because the most efficient system involves many complex factors.  There is no charge for this service.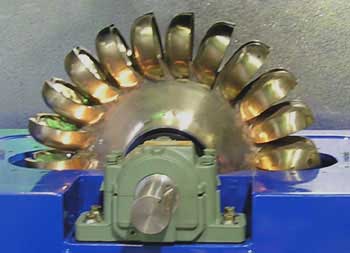 Canyon Hydro Manganese Bronze Pelton runner.
Beginning with your measurements of HEAD and FLOW, Canyon experts will specify the right combination of turbine type, diameter, bucket or blade characteristics, nozzle sizing, shaft speed, housing dimensions, and more.  We think it's important that you get the most power possible for your investment.
The most essential information we require is accurate HEAD and FLOW measurements.  Eventually, we'll also need information about your pipeline and electrical requirements, but we can assist you with defining them once we know your HEAD and FLOW.
Visit Canyon Hydro to learn more about their micro hydro systems.